hr>
Judith Filek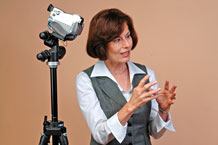 Our management and training team possess the highest ethical standards and attempt to model them in all employee and customer interactions. Our goal is to develop long-lasting relationships with all of our presentation communication skills and telephone skills training customers by exceeding their expectations.
Our team of highly seasoned communications consultants is led by Judith Filek. Ms. Filek is a university instructor, communications' coach and curriculum developer. She is committed to creating customized presentation communication skills or telephone communication skills training solutions for her clients that will produce a return on investment. Her focus in each presentation communications skills training or telephone communication skills training class is on building skills and confidence. Executives consistently applaud her thoroughness and flexibility in developing programs that solve problems and build skills.
Loved for her energetic delivery style and keen sense of humor, Ms. Filek has conducted presentation communication skills training and telephone communication skills training nationally and internationally. She has personally coached hundreds of senior executives. She is also a frequent conference presenter.
Ms. Filek has more than 25 years of experience in the communication field. She holds an M.A. in Counseling from DePaul University and a B.A. in English Education from the University of Illinois.
Resumes of any of our contract employees are furnished upon request.