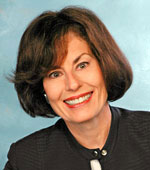 Judy Filek is available to speak at your company's national sales event or your professional association meeting.
Talks and presentations can be specifically geared to your company's special communications needs.
Judy's latest topics include:
Delivering Bad News Messages Effectively
How to Talk to the Big Guys, Internal or External Senior Level Executives
Speak So You're Heard: How Best to Move Our Direct Reports to Action
Known for her energetic speaking style and keen sense of humor, Judith excels at transforming ordinary speakers into powerful communicators. With more than 25 years experience, she is committed to helping individuals and groups sell ideas and have impact on customers. Her focus is on building skills and confidence whether it's a two-day workshop, a corporate event or a keynote.
Judith has trained more than 10,000 participants and has coached hundreds of senior level executives. Some clients include PeopleSoft, eFunds Corporation, Tap Pharmaceuticals and Dell Computers, as well as other Fortune 1000 companies and government agencies. When you have to have impact, call Judith Filek.
If you would like additional information or to schedule Judy as a speaker, please call our office at 847-438-4480.